Dümmen Orange's Phalaenopsis Take the Stage in Taiwan Flower Varieties Showcase 2023
Dümmen Orange's Phalaenopsis varieties took centre stage at the prestigious Taiwan Flower Varieties Showcase 2023 in a dazzling display of floral excellence. Taiwan Flower Varieties Showcase, one of the most essential floriculture events in Taiwan, now in its third iteration, stands as a beacon of innovation and quality in the flourishing Taiwanese floriculture industry, with guidance from the Ministry of Agriculture Taiwan and the Agriculture and Food Administration.
Organized by the Taiwan Flower Development Association, Chinese Potted Flower Development Association, Taiwan Orchid Breeders Society, and Taiwan Flower Shops Association, this showcase is a testament to the industry's commitment to growth, diversity, and excellence.
The event's spotlight was undoubtedly on Dümmen Orange's Phalaenopsis variety F5842, orchestrated by the meticulous voting process facilitated by the Taiwan Orchids Breeder Society. This exceptional variety clinched the top spot in the commercial category within the 177 other Phalaenopsis varieties, securing the highest votes from Orchid professionals across the industry among the diverse regions represented. The evaluators for this evaluation activity are 42 representatives from various areas in Taiwan, including professionals and representatives from the flower and orchid trade, business operation and wholesale sectors. They participated in this global evaluation activity to assess trends worldwide in the seven major markets.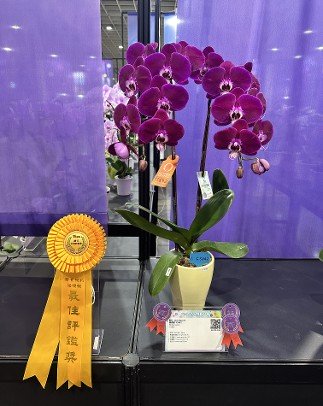 At the standard maturity level, this variety, with a pot diameter of 12 centimetres, exhibits dual stems bearing 17 flowers each, reaching a height of 75 centimetres with a flower diameter of 11 centimetres. The leaves stand upright. It is a hybrid of the black and red flower systems. The black system has a velvety texture, giving it a pearl-like sheen under light, while the red flower system enhances its vibrant and bright appearance. The combination of the white lip creates a rich and strongly contrasting overall colour. Numerous generations of rare waxy varieties have improved the black flower system to achieve such outstanding commercial characteristics.
In addition, five other varieties from Dümmen Orange that participated in the evaluation also garnered significant votes in assessing major market trends. These five varieties are F4528 (North America, South America, Taiwan, and Southeast Asia), F5373 (North America and South America), F5497 (North America), F5521 (Southeast Asia), and F6960 (Europe).