Dümmen Orange at Russian florist event
On Saturday August the 12th of 2017 an event for Russian florists took place in the heart of Moscow. This event was a collaboration between Dümmen Orange, Flowers by Macheliuk and Flower Experience. About 150 florists subscribed ahead of the event, to be a part of this day.
Paul Gorbenko and Roman Zarubin, Russian top florists, gave masterclasses with a all kinds of Dümmen Orange products. Gerbera, Roses, Cut & Pot Chrysanthemums, Kalanchoe and Anthurium where all used in a wide variety of arrangements, made by these top florists. From large and colourful bouquets to small plant decorations.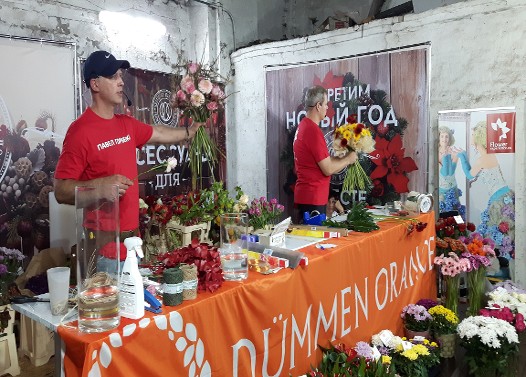 Rick Minck, Category Manager at Dümmen Orange, was present at this event.
During the masterclasses he told the audience more about the advantages of our Dümmen Orange products compared to others. While Paul and Roman showed the florists how to use them.